Kings Beach State Park and Boat Launch
8318 N. Lake Blvd., Hwy. 28
Kings Beach, CA 96143


(530) 523-3203 Park Office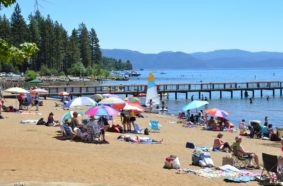 Welcome to Kings Beach, the largest public beach on the North Shore! Explore its nearly 700 feet of shoreline or spend the day on the water with a rental from North Tahoe Watersports. Rent a jet ski, kayak, water bike, or paddle boat, or enjoy a parasailing ride or private lake tour. Swimmers claim Kings Beach has one of the warmest beaches on Lake Tahoe do to the fact that it is south-facing and has a gradually deepening lake floor. There is a parking fee, but walkers and bikers can use the beach at no charge.
Enjoy a stroll on the walking paths that meander throughout King Beach Plaza and its patio-style courtyard. It is the site of many special events, including the summertime arts and crafts fairs. This beach is dialed with bathrooms, a basketball court, volleyball courts, horseshoes, barbeque and picnic areas, and a lakefront playground. The recreation area is in downtown Kings Beach, just off of Highway 28. Dogs are not allowed on the sandy beach at Kings Beach SRA year round, but within walking distance is Coon Street "dog friendly" beach where dogs are welcome. For other wonderful North Lake Tahoe beaches in the area view our Lake Tahoe beaches map and don't forget the sunscreen!
Beach Details:
Accessibility
Barbeques
Boat Rentals
Fishing Nearby
Paddleboard and Kayak Rentals
Parking/Day-use Fee
Jet Ski Rentals
Picnic Tables
Playground
Public Bathrooms
Public Transit Nearby
Shade Available
Volleyball Courts
Watertrail Trailhead
Coon Street Boat Launch
Boaters can head to the Coon Street Boat Launch, which has restrooms and parking for vehicles with or without trailers. Expect separate fees for launching and parking, which is limited. Coon Street Boat Launch is located at the south end of Kings Beach State Park with easy access to North Lake Tahoe. Check out other nearby Lake Tahoe boat launches. For additional information call 530-546-4212.
Map / Directions