Vikingsholm Hiking Trail
Trail off Emerald Bay Rd,.
South Lake Tahoe, CA 96150


(530) 541-3030 Vikingsholm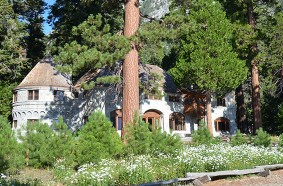 Difficulty: Easy
Elevation: 6230′ / 6630′
Mileage (one way): 1 mile
Directions to Trailhead : Take Highway 89 north from South Lake Tahoe approximately 9 miles to the parking lot on the right. The parking lot fills up quickly in the summer season, so arrive early.
Trail : Trail goes past the observation area. Enjoy the pleasant, but moderate one-mile hike (with about a 450-foot elevation change) from the parking lot to bottom of Emerald Bay. The trail is fairly wide to accommodate the number of visitors to this popular destination. When at the end of the trail take the Vikingsholm Castle tour available 7 days a week from mid-June until the end of September from 10am to 4pm. All tours are guided and take approximately one-half hour. After you have enjoyed the castle, hike the short trail to Lower Eagle Falls which begins directly across from the castle or relax at Emerald Bay Beach.

Attractions and Considerations : View an authentic replica of a Viking castle which is part of the Emerald Bay State Park. Daily tours are given from mid-June through Labor Day. A nominal fee is charged. Bring a picnic lunch and enjoy the fabulous view of Emerald Bay and Fannette Island from the shoreline. Pets are not allowed.
Useful Map Information : USDA Forest Service map: Lake Tahoe Basin Mgnt. Unit: R.17 E. T. 13 N.
Map / Directions