Vikingsholm Castle & Emerald Bay
9999 Emerald Bay Rd.
South Lake Tahoe, CA 96150


(530) 525-9529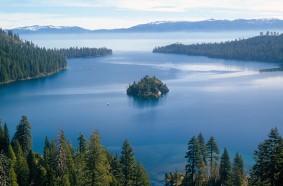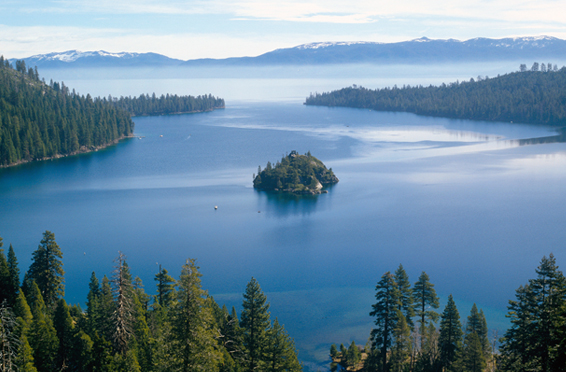 Historic Vikingsholm Castle offers one of the most spectacular views of Lake Tahoe and Emerald Bay – one of the most photographed bays in the world. For great images click the Photo Gallery just above the map below.
In 1928 Mrs. Lora Josephine Knight purchased the land that encompasses Emerald Bay and Fannette Island for $250,000. Mrs. Knight had traveled Scandinavia with her architect where they were inspired by the architecture. Her Vikingsholm Castle was completed in 1929 and reflected Scandinavian style of construction and architectural design. Two hundred workers were hired to hand hew the timber, carve intricate designs, and for the interior walls hand planned the wood. Much of the materials used such as timber and granite rock came from the Tahoe Basin. There are sections of the Vikingsholm Castle that contain no nails, pegs, or spikes. Visitors are fascinated by parts of the roof covered in sod and large carved exterior sections of wood. The home was heated by six fireplaces built in Scandinavian style with unique fireplace screens.  If you have a chance take a tour of Vikingsholm Castle and prepare to be transported back into medieval times.
Mrs. Knight enjoyed summer afternoon tea on Tahoe's only island, Fannette Island, located in the middle of Emerald Bay. Much of the tea house is still standing and offers amazing 360 degree views of the bay. If you are visiting in the summer you can rent kayaks or stand up paddle boards located at Emerald Bay beach and make your way across to the Island to climb to the tea house and take in the view.
Trail to Vikingsholm Castle
Vikingsholm Castle is not accessible by car, but there is the Vikingsholm Hiking Trail (a moderate one mile hike) from the Vikingsholm Castle parking lot to the castle and Emerald Bay beach. You will find the lake views along the trial and forest setting make this a pleasant hike. There are benches along the way if you need to stop and take a rest. Pack a picnic, your swim suit, and enjoy a summer afternoon at Emerald Bay beach just yards away from the castle.
During peak summer months the Vikingsholm Castle parking lot can experience a lot of traffic and you might find parking difficult. Prepare to get there early or avoid going weekend afternoons. There are bathrooms at the bottom of the trail open during the tour season. Vikingsholm Castle tours are available during the summer and early fall months. All tours are guided and take approximately one-half hour.
Operating Tour Hours for 2013 Season
May 26th – June 22nd and September 4th – September 30th
Tours: 11 am – 4:00 pm once an hour on the hour.
June 23rd – September 3rd
Tours: 10:30 am – 4:00 pm on the hour and half hour.
Tour tickets are $10 for adults, $8 children 7-17 years, children under 7 free.
Map / Directions