Tributary Whitewater Tours
10068 Hirschdale Rd.
Truckee, CA 96161


(800) 672-3846
(530) 346-6812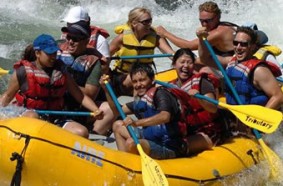 Whitewater rafting trips near Lake Tahoe, from 1/2 day – 3+ days on the Truckee, American, Yuba, Carson and other rivers. For all levels, from family vacation trips suitable for kids from 4 years, to rafting adventures for the expert. Reliable water flows all summer long!! Over 30 years of safe fun trips on many California rivers.
The Truckee River Rafting (Lake Tahoe Area) From Boca to Floriston is a 7 mile run, with many Class 2-3 rapids for the first 6 miles and exciting Class 3+ rapids in the last mile. The river passes through the High-Sierra desert, with cottonwoods lining the banks. The duration of the trip from pick-up to return is approx. 3 ½ hrs.
The East Fork Carson is unique, with its hot-springs tumbling into the river. The 21 miles of wilderness can be enjoyed on 1 and 2 day trips.
The South Fork American is suitable for beginners and youths from around 7 years and yet is exciting enough to bring back many people year after year. It has 21 miles of Class 3 whitewater offered on ½ , 1 and 2 day trips.
The Middle Fork American is a step up in difficulty for those wanting more excitement, with 17 miles of wilderness and an introduction to Class 4 whitewater. This trip is also suitable for the active and adventurous first-time rafter. Long 1 day and 2-3 day trips are available.
The Lower Middle Fork American is Class 2, 7 mile run, ideal for a first time trip for youths from 4 years or for those just wanting a short, leisurely trip in almost wilderness surroundings. It is primarily run as a ½ day afternoon trip from June – August.
The North Fork American, though only available in the spring from April into June, is an outstanding river, with wonderful scenery and numerous Class 4 rapids for the more experienced boater. Duration 6+ hours.
The North Fork Yuba offers spring-time rafting on 4 different runs, suitable for the adventurous first-timer and the more seasoned veteran. It is uncrowded and pristine, flowing through the evergreens of the Tahoe National Forest. Trips from 1-4 days are available on either Class 4 or Class 5.
Trips available April – September
Call for tour prices. Reservations required.