Tahoe Sports Massage and Bodywork LLC
1048 Ski Run Blvd
South lake Tahoe, CA 96150


(530) 314-1724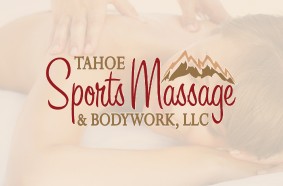 Massage therapy for relaxation, sports injury, increased flexibility, or just to feel great. Tahoe Sports Massage and Bodywork massage therapy sessions can ease your muscle tension, improve your bodies flexibility, and possibly even boost sports performance. Whether you are looking for an hour to relax and ease stress, or for injury rehabilitation, we can help. Tahoe Sports Massage and Bodywork offers many massage services for your specific needs.
Massage Services:
Custom
Relaxing Swedish Massage
Deep Tissue Massage
Recovery Sports Massage
Maintenance Sports Massage
Myofascial Release
Hot Stone Therapy
We are mobile! Licensed therapists are available at our Ski Run Blvd office, or one or more of our certified massage therapists can come to your home, office, or vacation rental. Leave the traveling to us!
Reservations are appreciated, but last minute spots may be available so check our online scheduling or call us at 530-314-1724. Book your Lake Tahoe massage today!
Map / Directions