Tahoe Donner Cross Country Center
11603 Snowpeak Way.
Truckee, CA 96160


(530) 587-9484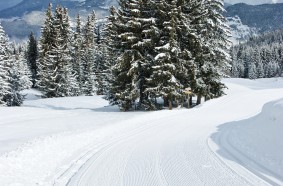 Looking for world-class cross country skiing? Tahoe Donner Cross Country Center is ranked in the top five out of more than 450 cross country skiing facilities in the U.S. It offers an excellent launching point to more than 100 km of the most scenic terrain in the Lake Tahoe area. Groomed 7-days a week, it is perfect for diagonal striding, skating and snowshoeing. Challenge yourself on the peak trails, or take a more leisurely route across gentle rolling hills.
Among the Tahoe Donner Cross Country Center trail options is a 3.5 km run to the Cookhouse in the Euer Valley. The Cookhouse is available as a warming hut on the weekdays, but on weekends and holidays food is served. There are 36 km of trails in the Home Range, 30 km up the Sunrise bowl, and a 2.5 km night skiing loop available on Wednesday nights in January and February.
Tahoe Donner Cross Country Center offers all-day rentals, and group and private ski instruction. It has a Day Lodge with equipment rentals, ski maintenance, and trail passes. It also has Alder Creek Café offering delicious and fresh homemade food. There are five warming huts spread throughout the area. It is not dog friendly.
There are many Lake Tahoe cross country ski areas to choose from so the choice is yours. Where it be Tahoe Donner Cross Country Center, Royal Gorge or the North Lake Tahoe area you will be impressed with the beautiful mountain terrain.
Map / Directions