Tahoe City Winter Sports Park
251 N. Lake Blvd
Tahoe City, CA 96162


(530) 583-3796, ext. 21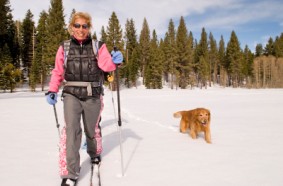 Brings the kids and even your dog! Check out the new Tahoe City Winter Sports Park located at the Tahoe City Golf Course. This dog-friendly course offers cross country skiing and snowshoeing terrain, plus equipment rentals this winter. There is even a small sledding hill for young children. The Tahoe City Golf Course Club House offers a restaurant and bar open – a relaxing place to grab a bite to eat.
During the holidays, the Tahoe City Winter Sports Park will be open seven days a week, while the regular schedule is four days a week. All services are provided by Tahoe Cross Country and Duncan Golf Management.
Get you and experience the winter beauty at Lake Tahoe. Tahoe City Winter Sports Park and many other great Lake Tahoe cross country resorts are just waiting for you and your skis!
Map / Directions