Squeeze In
10060 Donner Pass Rd.
Truckee, CA 96161


(530) 587-9814 Local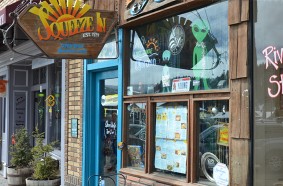 Squeeze In has consistently been voted Truckee's Best Breakfast year after year! Squeeze In was also voted Best Breakfast at its neighboring location in Reno for 2011! It is known for serving up famous omelettes and is a favorite breakfast spot for locals and visitors alike. You'll find Squeeze In located on Truckee's historic commercial row surrounded by history and charm. Go for an early breakfast and then shop at the unique boutiques.
Choose from a huge selection of omelettes with more than 60 combinations on the menu, plus traditional breakfast favorites like sausage, eggs, pancakes, and biscuits and gravy. Since it opened in 1974, Squeeze In has been a Truckee hot spot for breakfast and lunch and also offers catering. With 14 tables available the place fills up fast, so get there early. If not, it's definitely worth the wait.
Squeeze In's most popular omelettes:
Dierdoni – Sausage, bacon, tomatoes, mushrooms and jack cheese
Your Mom – Ham OR bacon OR sausage and a variety of cheeses
Gare Babe's Denver – Ham, onions, tomatoes, bell peppers and cheddar cheese
Hangover Helper – Ham, bacon, sausage and a variety of cheeses
Dirty Dick – Ham, bacon and a variety of cheeses
Hot Sweaty Busboy (aka: Mr. Sexy) – Make your own combination of cheese and any four ingredients
Buckin' Buster – Sausage, spinach, mushrooms and a variety of cheeses
Map / Directions