South Tahoe Wooden Boat Classic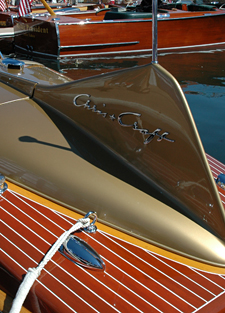 Indulge in a classic Tahoe tradition this summer at The South Tahoe Wooden Boat Classic, July 26th and 27th located at the Tahoe Keys Marina in South Lake Tahoe. Come see the largest collection of antique wooden boats this show has ever assembled. Along with the timeless mixture of masterfully restored wooden boats reflecting off the pristine waters of Lake Tahoe, you'll also enjoy live music, an array of food and shopping, a wine tasting village and a festive, family-friendly atmosphere. It's a great ways to spend your day taking in the summer sun at gorgeous Lake Tahoe and seeing a bit of boating history.
The South Tahoe Wooden Boat Classic is presented by The Antique and Classic Boat Society, Inc. (ACBS) which is a 6,000+ member family international organization. Its mission is to bring together people with a common interest in historic, antique and classic boats for the purpose of sharing information, experiences and ideas.
The South Tahoe Wooden Boat Classic Public Event:
Friday July 26th- 12pm to 5pm and Saturday July 27th- 9am to 5pm
Tahoe Keys Marina   |   2435 Venice Dr South Tahoe, CA 96150
If you enjoy the boat show then head to The Tahoe Maritime Museum, located in Homewood, California on Tahoe's North Shore. View their impressive collection of boats dating back to the 1800′s that document Lake Tahoe's boating history. The museum is open from Memorial Day through Labor Day each year, Friday to Monday, 11am to 5pm. Call (530) 525-9253 Local