South Lake Tahoe Sleigh Rides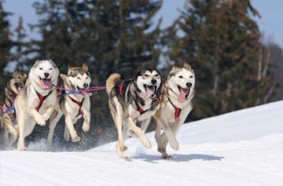 Have you ever dreamt about going on a romantic sleigh ride, all snuggled together with your loved one? Now picture breathtaking Lake Tahoe and the snow capped Sierra Mountains in the background and your dream is complete. Make that dream a realty at Borges Sleigh Rides, Lake Tahoe. They have been been in business for years. Not to feel left out in the summer, they offer wonderful carriage rides as well.
If you want to kick things up a notch or two then a Lake Tahoe dog sled ride will do the trick. In dramatic Hope Valley your dog sled adventure will begin as you glide over the snow letting the dogs happily do all the work. It's something to write home about, dog sledding the beautiful Sierra Mountain back country. Who would of guessed?