Round Hill Pines Beach and Marina
Zephyr Cove, NV 89448


(775) 588-3055 General Info
(530) 542-6587 Groups & Weddings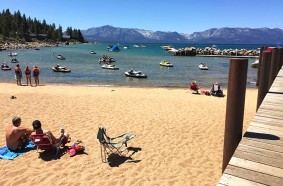 Family's flock to Round Hill Pines Beach Resort for its half-mile long sandy beach, gorgeous sunsets, heated pool, and other day use amenities. It is also a popular site for private parties and elegant lakeside weddings. A marina provides watercraft rentals and seasonal buoy lease and other opportunities to see Lake Tahoe from the water. Food and beverages are provided at the on-site Bar and Grill. The beach is located in a cove with extraordinary views of Mt. Tallac and the surrounding Sierra peaks.
Driving access to the site is off of Highway 50, just past Elks Point Rd. at the southern end of Marla Bay. There is a parking fee for onsite parking. A paved bike path from Kahle Meadows also accesses the site for an easy bike ride or walk to and from.
Round Hill Pines Beach Resort provides fun for the whole family and offers a unique Tahoe charm that keeps visitors and locals returning year after year.
Dock and Buoy Rentals
Food & Beverages
Public Restrooms
Watercraft Rentals
Beautiful sandy beach
Picnic Tables
Group & Wedding Venues
Day Use Beach rentals
Map / Directions