Pacific Fine Arts at Lake Tahoe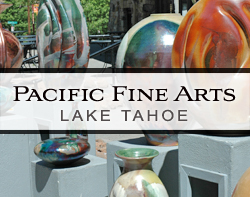 Take the opportunity to experience the finest in paintings, drawings, photography, sculpture, ceramics, graphics, and jewelry at a Pacific Fine Arts Festival near Lake Tahoe this summer. Meet more than 45 award-winning artists and crafts people at these free events. Among this year's premier artists are ceramicist Brand Henry of Truckee, CA; printmaker Laura Morton of Grass Valley, CA; award-winning jeweler Meg Black-Smith of Nevada City, CA; landscape photographer Kathleen Burks of Fernley, NV; nixed-media painter Karen Hale of Jackson, CA; and glass blower Tim Lazer of Sacramento, CA.
Pacific Fine Art Festivals are not your typical arts and crafts fairs. PFA's goal is to produce the highest quality art festivals possible, and do this by jurying each participant before adding them to the roster. This year, festivals in the Lake Tahoe area will be held in Squaw Valley, Kings Beach, Historic Downtown Truckee, and Tahoe City. Check the schedule – these 3-day events take place on various weekends throughout the summer at different Lake Tahoe locations, and some are held for more than one weekend. If you are looking for something unique and beautiful for you home or office then you will want to attend one of these great Lake Tahoe events.
Dates and Locations of Shows Summer 2012:
July 7th and 8th | 10am-5pm
17th Annual Fine Arts and Crafts on the Shore
Kings Beach State Park · North Lake Tahoe
July 28th and 29th | 10am-6pm Sat – 10am-5pm Sun
5th Annual Historic Downtown Truckee Arts and Crafts Festival
Bridge Street at Donner Pass Road/Truckee
From I-80 take Central Truckee exit, East on Donner Pass Road
Truckee, CA
August 11th and 12th | 10am-6pm Sat – 10am-5pm Sun
4th Annual Historic Downtown Truckee Arts and Crafts Festival
Bridge Street at Donner Pass Road/Truckee
From I-80 take Central Truckee exit, East on Donner Pass Road
Truckee, CA
August 17, 18, 19 and August 24,25, 26 | 10am-5pm
4th Annual Boatworks Mall Arts and Crafts Festival
A two weekend spectacular!
760 N. Lake Boulevard (Hwy 28)
Tahoe City, CA
September 1st and 2nd | 10am-6pm Sat – 10am-5pm Sun
Historic Downtown Truckee Labor Day Arts and Crafts Festival
Bridge Street at Donner Pass Road/Truckee
From I-80 take Central Truckee exit, East on Donner Pass Road
Truckee, CA