Mt. Tallac Hiking Trail
Mt. Tallac Rd.
South Lake Tahoe, CA 96150


(530) 543-2600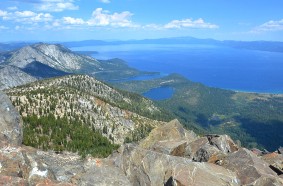 Difficulty: Multiple Trails: Easy, Moderate and Difficult
Elevation: 6480′ / 9735′
Mileage (one way): 1.7 to 5 miles
Directions to Trailhead : The trailhead is located approximately 3-1/2 miles north of South Lake Tahoe on Highway 89. Look for the Mt. Tallac Trailhead sign directly across from the entrance to Baldwin Beach. Turn left down the dirt road and continue to the trailhead parking.
There are three main trails:
1. Mount Tallac – one-way mileage is 5 miles. Difficulty level is difficult. (See map below for this trailhead location)
2. Floating Island Lake – one-way mileage is 1.7 miles. Difficulty level is easy to moderate.
3. Cathedral Lake – one-way mileage is 2.5 miles. Difficulty level is easy to moderate.

Trail : The first part of the trail to Floating Island and Cathedral Lakes is easy to moderate and can be enjoyed by the novice hiker. Beyond Cathedral Lake, the trail becomes steep and strenuous as it continues up the front face of Mount Tallac.

Attractions and Considerations : Providing a spectacular view of Fallen Leaf Lake, Lake Tahoe, and Desolation Wilderness, this strenuous hike is well worth the effort. Weather conditions can change rapidly in the Sierra mountains; bring a jacket, carry lots of water and use sun block if you burn easy. It's recommended you head out early to allow plenty of time for your trip. This is a popular hike so you will see other hikers during the peak season of summer.
A wilderness permit is required. Day hikers, pick up your permit at the self serve area at the trailhead. Overnight hikers will need an overnight permit for Desolation Wilderness. This permit must be purchased before you get to the Mt. Tallac Trailhead. Visitors can reserve overnight permits online by visiting www.recreation.gov.

Useful Map Information : USDA Forest Service map: Lake Tahoe Basin Mgnt. Unit: R.17 E. T. 12 N.
Other Trialheads : Floating Island Lake: 1.7 miles / Cathedral Lake: 2.5 miles / Mt. Tallac: 5 miles
Map / Directions