Mr. Toad's Wild Ride Mountain Bike Trail
Hwy 89 (Start at Big Meadow Trailhead)
South Lake Tahoe, CA 96150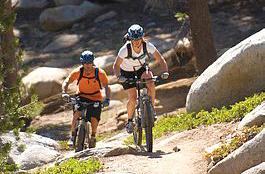 Technical Level: Advanced Plus
Elevation Gain: Around 1700 ft
The Ride: 13 miles with a shuttle – 19 miles loop
Location: South Lake Tahoe
Season: Summer
Catch some speed and get ready for lots of hairpin downhill turns and awesome drops on one of Lake Tahoe's premier technical mountain bike trails. Mr. Toad's Wild Ride is a favorite in the mountain biking community. There are several routes, but for the easiest one we suggest starting at Big Meadow parking lot or you can ride up Upper Truckee Rd. until you come to the Big Meadow parking area where you will look for a fire road at the east end.
The fire road will take you to the Tahoe Rim trail where you will turn right and start climbing. Once you start descending the trial will come to Tucker Flat where you will see a trail sign for Saxon Creek. This is where your adventure on Toad's Wild Ride begins – a singletrack run that will challenge even the most advanced riders. It is a blast with rocks to jump, some banked turns, soft, dirt sections, rock gardens to navigate, and few streams to cross. This trail will give any rider thrill to remember.
The trail itself is beautiful as you navigate among towering trees and through pristine meadows surrounded by gorgeous views. This 20 mile trail takes at least 2 hours to ride if you are in really good shape, so be sure to pack lots of water. Mr. Toad's is pretty tough for even advanced riders, so don't feel bad if you have to walk some of it. Mr.
This easier route of Mr. Toad's Wild Ride starts at the Big Meadow trailhead located on Highway 89 as you head to Hope Valley. The trail ends on Onidas Street which is located off Pioneer Trail near Meyers.