Lake Tahoe Web Cams and Ski Resort Cams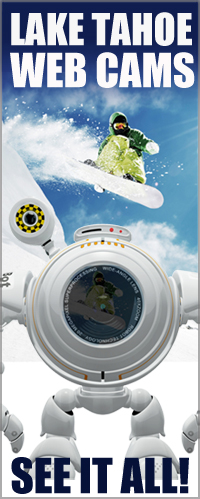 The 2017/2018 winter season is here so plan ahead and view Lake Tahoe web cams for a real-time look at weather and snow conditions. Keep tabs on the local highways so you don't get caught off guard. Use the Lake Tahoe web cams map as a quick launching point to all the major Lake Tahoe ski resort web cams, casinos and highways. Our sister website offers the most up-to-date information possible on your favorite mountains and the roads that take you there. Here are some quick links to some of the most popular Lake Tahoe web cams.
Quick Links
Lake Tahoe Ski Resorts Web Cams
Lake Tahoe Web Cams
Lake Tahoe Road Conditions Web Cams
Lake Tahoe Ski Resorts
The greater Lake Tahoe area has over 15 ski resorts to choose from and we have compiled them all for quick access on our Lake Tahoe Ski Resorts page. The resorts themselves offer some great web cam locations to really get a full scope of the terrain from top to bottom. The Heavenly web cam features views of East Peak, Dipper, Gondola, and the Heavenly Tram. The Squaw Valley web cam offers views from High Camp, including Squaw Peak, KT-22, Granite Chief Peak, and Emigrant Peak, or use the Base Area cam for views of the base area, Cornice II, and Headwall. In the Truckee area the Truckee web cams offer views of local resorts, including Boreal, Tahoe Donner, Sugar Bowl, and Donner Ski Ranch.
Our sister website is a great resource listing all the Lake Tahoe and Truckee Chambers – your doorway to the Lake Tahoe basin.