Lake Tahoe SummerFest 2013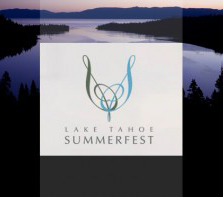 There is no better way to celebrate fine arts and culture than at the Lake Tahoe SummerFest's concert series. Playing anything from Beethoven to Brubeck, these talented musical artists hail from the world's most prestigious stages.
The orchestra has once again created stunning musical concerts that are sure to mesmerize visitors of all ages. The talented Maestro Joel Revzen has recruited the most talented instrumentalists from the San Francisco Symphony, New York Metropolitan Opera Orchestra, Seattle Symphony, and the Los Angeles Philharmonic. This year's featured orchestra members include violinist Jennifer Koh, pianist Benjamin Hochman, composer and soloist Chris Brubeck, flutist Demarre McGill, and mezzo-soprano Frederica von Stade.
The concerts take place from August 2 to 18, 2013 in a 500-seat acoustic tent situated on the Sierra Nevada College campus in Incline Village, NV. The three-week series features orchestra concerts on Friday nights, chamber music on Saturday nights, family concerts on Sunday afternoons, plus open rehearsals and "talkback" conversations after each concert with the maestro and orchestra members.
For a complete list of all of this summer's exciting events, visit the Lake Tahoe SummerFest website. For other fantastic summer festivals, concerts, and attractions, please visit our Lake Tahoe events calendar. Check out the wonderful year-round Lake Tahoe recreation that will keep you busy for days!