Lake Tahoe Shakespeare Festival 2012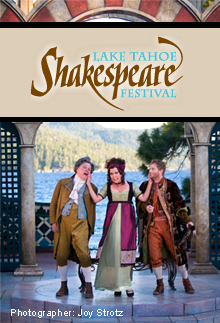 Wiggle your toes in the sand as you watch this season's production of Shakespeare's "The Two Gentlemen of Verona," directed by Charles Fee. From July 13th through -August 26th 2012. As always, the Lake Tahoe Shakespeare Festival delivers first-class entertainment in a picture perfect setting at Sand Harbor State Park. Let your enchanting evening begin with a bottle of wine, a gourmet meal, and a belly full of laughs! This popular Lake Tahoe festival brings audiences back year after year – make it top on your list this summer.
"The Two Gentlemen of Verona" is about Valentine and Proteus whose close friendship is put to the test as they vie for the affections of the same strong-willed lady. This exciting production features a talented live onstage band, professional actors dress in immaculate costumes, and the most striking sets you have ever seen. All of these elements come together to give you an experience you will not soon forget.
Families will want to take advantage of one of 11 free productions of the play, put on by the D.G. Menchetti Young Shakespeare group. This production is an adaptation of the mainstage offering and was especially designed for young audiences.
Check out the Lake Tahoe Shakespeare Festival summer 2012 website for more detailed information about this year's production, tickets, days and times.  For other great Lake Tahoe events visit our calendar of events and discover all the exciting entertainment going on at Lake Tahoe.