Lake Tahoe Marathon Week of Events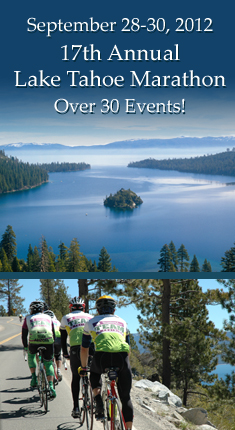 September 28-30, 2012 – Lake Tahoe Marathon Week of Events
Do you enjoy running, walking, swimming, paddling, or pedaling? Runners from all over the country love to participate in the Lake Tahoe Marathon for its lush scenery and challenging terrain. Along with the marathon are 5-days of activities and over 30 events you can participate in. Expect additional sporting events such as fun runs, kayak races, swimming competitions and bicycle rides, or take part in more relaxing activities such as buffet dinners and sunset cruises on gorgeous Lake Tahoe. The marathon week is held at various locations around Lake Tahoe, including Commons Beach in Tahoe City, CA and Pope Beach, Emerald Bay. There discounts for active military and kids under 18. See the website for a detailed schedule of events.
A short list of just a few events you can join:
The Lake Tahoe Marathon
Emerald Bay Marathon
Cal-Neva Marathon
3-Day Tahoe Triple Marathon
72 Mile Midnight Express Ultra Marathon
The Lake Tahoe Triathlon
Optimist Kids Fun Runs