Lake Tahoe Maps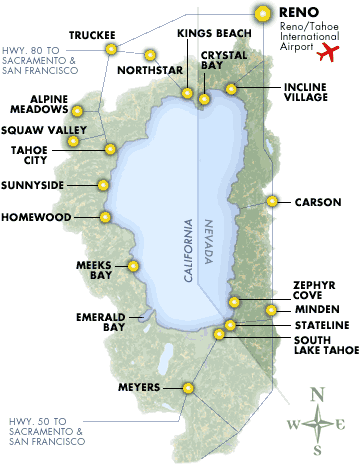 Lake Tahoe Map
Lake Tahoe is the largest alpine lake in North America. It is the eighth deepest lake in the world and in the U.S. it is second deepest to Crater Lake, Oregon.
Shoreline:
71 miles (CA 42 mi.- NV 29mi.)
Length:
22 miles
Width:
12 miles
Surface Elevation:
6,225′ above sea level
Depth:
Maximum 1,645
Average:
900′
Surface Temperature:
68°F Max. Min. 41°F
Searching for a reliable Lake Tahoe Map? You have come to the right place! Our Lake Tahoe map is easy to navigate, user friendly, and serves as a terrific Lake Tahoe vacation guide. We also have fantastic interactive maps of Lake Tahoe. Golfers will enjoy plotting out their trip using our interactive Lake Tahoe golf course map. Skiers and snowboarders will want to explore our interactive Lake Tahoe ski resorts map. If you are coming to the area for some summertime fun, be sure to check out our Lake Tahoe beaches map.
Viewing our Lake Tahoe map is a great start to an unforgettable vacation. As the second deepest lake in the United States and the 16th deepest lake worldwide, Lake Tahoe's crystal clear blue waters reach 1,645 feet at its deepest point. This jewel in the Sierra's has a length of 22 miles and a width of 12 miles, which gives visitors a surface area of 191 square miles on which to play and explore. Our Lake Tahoe beaches map reveals 72 miles of shoreline filled with a variety of unique beaches ranging from sandy splendor to rocky picturesque havens. About two-thirds of the lake's shoreline is in California and the rest is in Nevada. This means that South Lake Tahoe, CA (the largest city on the lake) and Stateline, NV, both rest on the south shore, while Tahoe City, CA, is on the northwest shore.
Both California and Nevada claim Lake Tahoe as a major tourist attraction year round. Our Lake Tahoe map will lead you to the best winter recreation activities and summertime fun. Lake Tahoe ski resorts are very popular, as are the cross country skiing treks and thrilling snowmobiling adventures. Many people enjoy ice skating, or playing in a snow park. If gaming is your thing, our Lake Tahoe map can lead you to the Nevada side of the lake and its many lively casinos. Summer recreation runs the gamut with hiking trails and biking opportunities, boating and fishing prospects, and best of all, tons of Lake Tahoe beaches! The best thing about Lake Tahoe is that the views are always breath-taking, and it is accessible year-round via highways that lead from Reno, NV, Carson City, NV, and Sacramento, CA.
We designed our Lake Tahoe maps to be a virtual guide to the area and all of its offerings. Thank you for visiting TahoeActivities.com and allowing us to help you plan a memorable vacation!