Lake Tahoe IRONMAN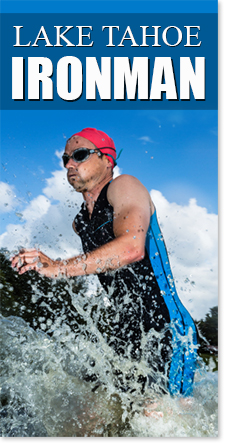 IRONMAN race circuit is coming to Lake Tahoe, September 20th! Athletes from all across the country will compete.
The Lake Tahoe IRONMAN race starts at Kings Beach in North Lake Tahoe with swimmers diving into the clear, cool waters of Lake Tahoe and swimming in two counterclockwise loops. After a lakeside transition, athletes will hop on their bikes and start a scenic 21-mile ride that ends with a grueling climb up Brockway Summit at an elevation of 7,200 feet. Riders transition to the running portion of the race at Squaw Valley USA, home to the 1960 Winter Olympics. This leg of the race is relatively flat as it follows the Truckee River bike path and loops back around to finish at The Village at Squaw Valley. IRONMAN athletes will be given the traditional 17 hours to complete the course. Come take part in this amazing Lake Tahoe event, Lake Tahoe IRONMAN.
While you are here enjoy other great Lake Tahoe recreation that make the area so well loved. From hiking to biking, golfing to skiing and of course the Lake Tahoe beaches they are just a taste of what makes Tahoe so incredible.