Lake Tahoe Halloween Events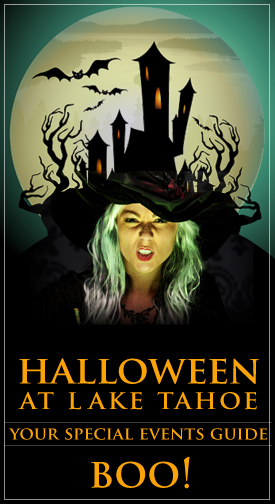 The 2012 Halloween events list below have past.
Visit  the  2013 Halloween Parties and Events!
Halloween is almost near and where will you celebrate this most scariest of occasions? At Lake Tahoe of course. Plan to attend several family fun (and adult fun too) Halloween events going on at Lake Tahoe this Halloween season. From the Truckee Halloween Parade to The Black Catt Halloween Ball, Pumpkin Parade and Harvest Festival to the Freaker's Ball at MontBleu Resort there is plenty to pick from so get that special costume ready and prepare to be properly scared!

……………..
Truckee Halloween Parade
October 26, 2012 from 4:30 – 6:30pm
Historic Downtown Truckee
Event description 4:30 pm -Trick or Treat begins downtown, 5:15 pm – Meet at Train Depot to sign up for costume contest, 6pm – Parade leaves Depot to Community Center Parade through downtown streets ending at the Community Center to enjoy treats and games. This is a wonderful event for the whole family.
……………..
Not So Scary Haunted House
October 26, 2012 from 5:00 – 8:00 PM
Northwoods Clubhouse – Tahoe Donner
www.tahoedonner.com
Find your way through our Creepy Carnival or play games and enjoy a movie, either way you're bound to get a sack full of candy and prizes! The not so scary haunted house is recommended for kids with a low scary tolerance, good for the little guys! Cost: Kids $2, Parents FREE
……………..
Tahoe City Pumpkin Patch
October 27, 2012 from 10am-2pm
www.tcpud.org
Annual Pumpkin Patch at Rideout Community Center in Tahoe City. Plenty of fun for the entire family including face paint, carnival games, pony rides, hay rides, bounce houses, BBQ, and of course, PUMPKINS.
……………..
The Black Catt Halloween Ball
October 27, 2012 from 7pm – 2am
Truckee Tahoe Airport Hangar #1 – Truckee
For more information call (530) 550-9999
Contractors Association of Truckee Tahoe
Huge costume party featuring live music by "The Whitney Myer Band" 9-11:00 pm, "DJ Silver BoomBox Thief" before and after, go-go dancers, costume contest with first place $500 cash, $300 for second and $200 for third and a giant prize raffle. Gourmet food trucks available for purchase of dinner and snacks.
……………..
Downtown Trick or Treat at  Tahoe City
October 31, 2012 from 4 PM – 6 PM
Tahoe City, CA
www.tcpud.org
Join local businesses in downtown Tahoe City for a festive evening of Trick or Treating in a safe, friendly, and well lighted place. Check in at Heritage Plaza in Tahoe City for a trick or treat bag and a glow necklace.
……………..
Halloween Stevie Wonder & Michael Jackson Bash
October 31, 2012 starts a 8pm
Moody's Bistro Bar & Beats – Truckee
www.moodysbistro.com
Quartet Minus One are at it again! Be sure to join us for the Halloween Stevie Wonder & Michael Jackson bash! QMO will be playing the famous hits of Stevie Wonder and Michael Jackson. Be sure to wear your best costume.
……………..
Halloween Party (for adults)
October 27, 2012 starts at 9pm
Jakes on the Lake, Tahoe City
We are planning an adult Halloween Bash at Jakes on the Lake. Get your costume together for our costume contest with prizes!
……………..
Pumpkin Parade and Harvest Festival
October 27, 2012 from 10:00 AM – 5:00 PM
South Lake Tahoe Recreation Center
1082 Rufus Allen Blvd.
South Lake Tahoe, CA 96150
Golden Bear Events presents a Harvest Festival! Games, Free stuff for kids and families, Chili Cookoff, Cake Walk,  Services and goods for families, Crafts, Checker Tournament, and more! Be on the lookout for information on the Pumpkin Parade!  Watch the event build at
……………..
Valhalloween – Rocky Horror Picture Show Viewing & Costume Contest at Valhalla
October 26 and 27th – Doors will open at 9:30 PM
costume contest each night at 10:00 PM
Valhalla's Boathouse Theatre
Hwy 89 past Camp Richardson
South Lake Tahoe, CA 96150
(530) 541-4975
It's two spooky nights of fun and debauchery at Valhalla's Boathouse Theatre. Join us for an exclusive showing of Rocky Horror Picture Show and get time-warped back to Transylvania! You can be the first to experience "Valhalloween"…not a night for the meek and mild. Shiver with antici-(say it!)-pation! It's coming to Valhalla, the one and only, the original Rocky Horror Picture Show on the large movie-style screen inside the Boathouse Theatre. So grab your fishnets, your feather boas, and your friends and reserve your tickets now. No need to rummage around for the goodies to toss during the movie. It's all included in one low price of $15*! This event is not recommended for children.
……………..
Freaker's Ball at MontBleu Resort Casino & Spa
October 27, 2012 Doors Open at 8:00pm
Tickets: $25 Advance / $30 Day Of (plus tax/fees). Must be 21+
MontBleu Resort Casino & Spa
55 Hwy 50
Stateline, NV 89449
More information call (775) 588-3515
This howling night of Lake Tahoe Halloween fun takes place in the Convention Center with Live music from Pop Fiction, BLU Nightclub, Opal Ultra Lounge, and the Haunted Zone & Party Pit. Partygoers will find all the flair, farce, crack-ups and contests that give the Freaker's Ball its attitude. This year MontBleu will unleash new venues including The Haunted Zone and Party Pit to add to the already outrageous lineup of exotic go-go dancers, spooked-out decor, freakish cocktail concoctions and the funky fashion costume contest with a $10,000 purse. Come experience Halloween "Lake Tahoe" style.
……………..
Haunted Horizon: Annual Hallow-Kid Fest
October 28, 2012 from 12:30 PM – 5:30 PM
Horizon Casino Resort
50 US Hwy 50
Stateline, NV 89449
More information call  (775) 588-6211
The BEST family friendly Lake Tahoe Halloween event of the season – free admission. Tahoe's "Only" Haunted Maze, "Free" Costume Contest. 0-12 Years Old. Amazing Prizes for each age group: Electronics, Toys Games, …and More. Free Shows: Featuring MAGIC with Alex Ramon, and Cooley Jackson performing Thriller and Ghost. Man Cave Football, Drinks, Snacks, "You don't have to miss the game." Prices: .50 cents per game $2 Entry to Scary Maze
……………..
"Halloween Cove" At The Timber Cove Lodge
October 31 from 4:00 pm to 8:00 pm
Cove at Timber Cove Lodge
3411 Lake Tahoe Blvd.
More information call 530-545-0547
george@kthoradio.com
A safe and fun place to take your kids this Halloween. Many great events planned: Magician Alex Ramon from Illusion Fusion, "Live music" from Jesse Kalin, Children Photo's available by Photographer Rachel Lomeli, limited Free Tickets from the Tahoe Queen & M.S. Dixie, Bounce Houses, Face Painters, Balloon Guy, A Fire Safety program by Douglas County Fire Dept. and even more to come!