Lake Tahoe Cruises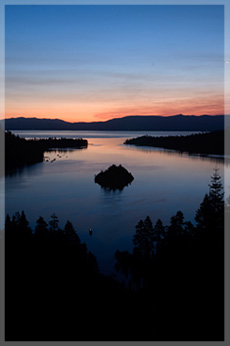 Do you dream of strolling the deck of a historic wooden vessel? Basking in the warm sunshine on the deck of a luxury Lake Tahoe yacht? Watching the sun glint off the crystal clear waters of the lake as you enjoy 5-star dining? Or, feeling the wind on your face as you lean over the rail of an authentic paddle wheeler? Both South Lake Tahoe cruises and North Lake Tahoe cruises run the gamut with something for every style and budget.
Enjoy a Lake Tahoe dinner cruise on the M.S. Dixie II, the Tahoe Queen or The Tahoe Gal. M.S. Dixie II is a paddle-wheeler that offers a romantic starlit cruise with a 4-course meal and dancing under the stars. Take a sunset dinner cruise on the Tahoe Queen, an authentic paddle wheeler with glass-bottom viewing that also does sight-seeing cruises. The Tahoe Gal offers a terrific Sunday dinner cruise with live music and fine cuisine. The Tahoe on Lake Tahoe is a historic wooden high-speed cruiser offering sunset cruises, public tours, and private weddings.
Lake Tahoe boat rentals are a popular choice for special occasions and events. The Party Boat is famous for hosting special events and celebrations, from birthday parties and bachelorette parties to family reunions and company retreats. Check out the Woodwind II, a 55-foot catamaran, for public tours and private charters for all your special occasions. The elegant Safari Rose at Lake Tahoe is considered the largest yacht on the lake and can be booked for your special events or for a guided tour. If you are seeking a luxury cruise, book the Tahoe Bleu Wave for weddings or special events. The Tahoe Gal offers private rentals to small groups and has a family friendly Magician Cruise, daily sightseeing cruises, and a romantic Full Moon Cruise.
Lake Tahoe boat tours are fun for the whole family! Tahoe Classic Boat Tours has vintage vessels, from its flagship 31-foot Hackercraft to the smaller Chris Crafts and Gar Woods. Kingfish Guide Service can accommodate up to 40 passengers on a private fishing charter or daily Emerald Bay cruise. Tahoe Sailing Charters offers the Tahoe Cruz, a 50′ sailing yacht, for high performance sailing adventures.
As you can see, there are many opportunities to enjoy Lake Tahoe cruises, whether it's a romantic date or day-time adventure under the backdrop of the majestic Sierra Nevada Mountains. If you just want to rent a small boat that you can use for the day or week, check out our pages for South Lake Tahoe boat rentals and North Lake Tahoe boat rentals.