Lake Tahoe Cross Country Skiing Guide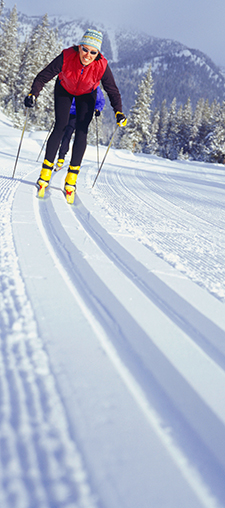 You have found it! Your guide to Lake Tahoe cross country skiing and snowshoeing trails and parks.
Gracefully carved over hundreds of years into the Sierra's is a place for those with a sense of adventure and curiosity. That is: Lake Tahoe. Hidden in plain sight are locations that provide some of the best cross country skiing and snowshoeing terrains in the western United States. Whether you are trying to workout, strap on skis for the first time or escape your personal concrete jungle, Tahoe's majestic landscape is home to some of the largest cross-country (XC) ski trails in the country, making it an excellent destination for you and your family/friends.
Take a look at the areas we've listed because many of these centers offer guided tours, helpful tips, snowshoe and ski rentals and maps to further assist you during your Tahoe experience. Dog-friendly areas are accessible; just make sure to call ahead.
North Lake Tahoe Cross Country Skiing and Snowshoeing
Set in rustic times and off the beaten path, North Lake Tahoe is really where you'll find the locals. Travel along well-kept trails for thousands of acres and you'll truly get a sense of spirit from North Lake Tahoe. Many of the trails are maintained daily, while warming huts break up the trek. Here's a complete online guide of North Lake Tahoe's cross country skiing and snowshoeing trails:
Tahoe XC, Tahoe City
For every skill level, Tahoe XC provides a total of 23 groomed trails for both XC skiers and snowshoers. 3 warming huts are sprinkled throughout the area.
Tahoe Donner Cross Country Center
A total of 54 trails provide any XC skier or snowshoer with more than 60 miles of sprawling slopes to choose from. New addition: Real Time Grooming Report (updates for online map of trails most recently groomed).
Tahoe City Winter Sports Park
Dogs, kids and families skiing and snowshoeing around, you'd never know the Tahoe City Winter Sports Park, during the winter, buries the Tahoe City Golf Course. With an outstanding view of Lake Tahoe, this Sports Park is great for beginner and advanced skiers alike.
Sugar Pine Point State Park
Trails inland and along General Creek within Sugar Pine Point State Park are one of the many highlights of the park, but don't forget there's still 10 miles of trail with access to 2 miles of lakefront on Lake Tahoe's West Shore. Any beginner or intermediate-level XC skiers or snowshoers has access to guided excursions, provided by the park.
Royal Gorge Cross Country Resort
No matter your forte (i.e. striding, xc skiing or snowshoeing), the Royal Gorge has laid out 6 different trail systems especially for you! Either way, on 6,000 acres of land there are over 120 miles of groomed trails where you can see the old growth trees and snowy ravines. Rental gear and professional instructors available. Dog friendly trails provided.
Resort at Squaw Creek Nordic Center
Undisturbed meadows and rolling rills make up a majority of Nordic Center's base camp. The complete resort experience can be found here; 400+ acres of trails, gentle enough for even the novice skier or snowshoer.
Northstar Cross Country Telemark & Snowshoe Center
Catch a gondola ride to mid-mountain and access 20 of Northstar's diligently groomed trails. At the Cross Country, Telemark + Snowshoe Center, rental equipment and lessons (beginner to advanced) are available.
South Lake Tahoe Cross Country Skiing and Snowshoeing
A getaway that can fulfill your social desires, while packing in tons of natural beauty: that is South Lake Tahoe. Step outside, breathe in the fresh mountain air, saddle up those skis or snowshoes, and travel up and past the glamour of 'Stateline' to the hundreds of trails South Lake Tahoe has to offer. No matter your skill level, South Lake Tahoe has it all. Tap into that adventure spirit you always knew you had and use our guide to discover all that's South Lake Tahoe cross country skiing and snowshoeing.
Hope Valley Cross Country Ski Center
If getting off the grid is important to you, Hope Valley Outdoors is the place. Located in the Humboldt/Toiyabe National Forest, Hope Valley's ski center includes top quality rental equipment, varying ski instruction, guided tours and access to 60 miles of serenity.
Camp Richardson Resort
Tahoe locals recently voted Camp Richardson "Best Place to Cross Country Ski", if that gives you any indication of its reputation. Camp Richardson's Mountain Sports Center offers over 6 miles of groomed/marked trails, equipment rentals and winter lodging for the entire family.
Kirkwood Ski Resort XC and Snowshoe Center
With over 50 miles of trails to explore, Kirkwood Ski Resort has everything a skier or snowshoer could want; groomed trails for beginners and advanced skiers, rental equipment and lessons for adults and kids alike, plus 2 dog friendly trails.
If you are planning your trip to Lake Tahoe then check out our great directory of Lake Tahoe lodging as well as Lake Tahoe's world-famous ski resorts. Check into great Tahoe events going this winter season as well as South Lake Tahoe casino excitement. Come make Lake Tahoe your winter wonderland escape.