Lake Tahoe Autumn Food & Wine Festival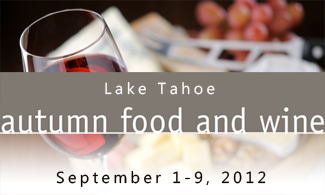 September 1-9, 2012 at Northstar at Tahoe and Squaw Valley
"A week long celebration of the senses."
When a cool fall breeze starts you blow in, you know it is time for the Lake Tahoe Autumn Food & Wine Festival 2012. Wow your palette with delightful foods and fantastic wines from Lake Tahoe's best restaurants and some of the best wineries in the region. Attracting thousands of visitors each year, including many top names in food and wine, the festival features 8 days of culinary and wine-related events. Be a part of the grape stomp and alfresco luncheon, take a hands-on cooking class or food and wine paring class, enjoy food and wine tastings, live music, and art.
There are live cooking and grilling demos, a Celebrity Chef dinner, a gourmet market to peruse, and much more. The grand finale is the Culinary Competition and Grand Tasting at Northstar California Resort. Tickets sell out quickly for many of these popular events, so secure your tickets early. The festival takes place at a number of North Lake Tahoe locations, including Tahoe City, Squaw Valley, Kings Beach, and The Village at Northstar in Truckee, CA. See the website for a detailed calendar of events and for other great Lake Tahoe events your just a click away.
Purchase tickets for the events below to guarantee to spot in this years Lake Tahoe Autumn Food & Wine Festival!
Saturday, September 8
12:00 – 4:00 p.m. – Wine & Brew Walk, $25
12:00 – 1:15 p.m. – LoCA Finding the Love in Lodi, $50
12:00 – 2:30 p.m. – Petra Restaurant & Pride Mountain Vineyards Winemaker Luncheon, $60
12:30 – 1:45 p.m. – Belgian Brews & Cheese Pairing, $45
1:15 – 2:15 p.m. – Paso Robles Vintners Showcase, $65
1:15 – 2:15 p.m. – Hands on Cooking, $15
2:45 – 3:45 p.m. – 2012 Pacific Oyster Wine Pairing, $75
2:45 – 3:45 p.m. – Chocoholics Anonymous, $50
2:45 – 3:45 p.m. – Hands on Cooking, $15
4:15 – 5:45 p.m. – Blazing Pans Mountain Chef Cookoff©, $15
5:30 – 7:30 p.m. – Charbay Annual Release Party, $75
Sunday, September 9
1:00 – 4:00 p.m. – Culinary Competition and Grand Tasting
$75 if tickets are purchased before Sept. 7
$95  if tickets are purchased after Sept. 7