Lake Tahoe $100 Mountain Gift Card Giveaway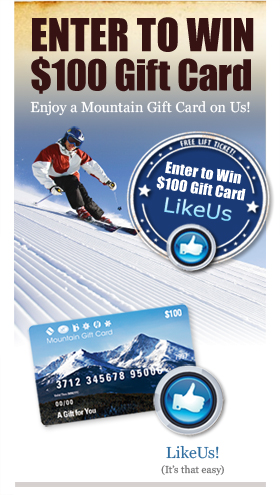 $100 Mountain Gift Card Giveaway for our Facebook Fans!
There is a lot to love about Lake Tahoe – especially the breathtaking winter vistas. Imagine perching atop a pristine snowcapped mountain, and then feeling the rush of adrenaline as you take the plunge downhill shooting past trees and snow drifts across the finest powder on earth. There is nothing quite like it.
Out of love for amazing Lake Tahoe experiences like this, we are offering our Facebook fans the chance to win a FREE Mountain Gift Card good for Heavenly, Northstar, Vail, Beaver Creek, Breckenridge, and Keystone.
How do you enter?
All we ask is that you LikeUs on Facebook.
Then you will be entered into our awesome drawing. Yes, it's that easy!
Winners will be able to use the gift card for a variety of purchases. Increase your chances to win by commenting on our Facebook/TahoeActivities page. Learn  more about Heavenly, Northstar and all other ski resorts visit our Lake Tahoe ski resorts directory.