Labor Day Weekend Fireworks Extravaganza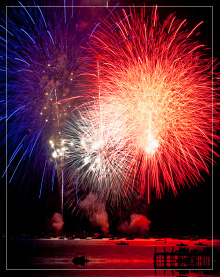 Come celebrate Labor Day Weekend at South Lake Tahoe Labor and end your summer with the Fireworks Extravaganza on Sunday, September 6th, 2015 at 8:30 PM. Visitors and locals will enjoy a pyrotechnic display of exploding fireworks over Lake Tahoe. Just after dusk view the variety of colors, shapes and designs with a simultaneous music broadcast that can be heard on local stations KRLT-FM 93.9 and KOWL – AM 1490. Show begins at 8:30pm.
Best Viewing Locations:
The South Lake Tahoe Labor Day Weekend Fireworks Extravaganza can be seen from just about anywhere along Lake Tahoe's south shore, but some of best locations to consider include are Nevada Beach, Edgewood-Tahoe, The Tahoe Queen and M.S. Dixie II, Timber Cove Marina, The Tallac Historic Site, Bijou Community Park, Reagan Beach and El Dorado Beach. Get there early and claim your spot. Enjoy the light show under the beautiful skies of Lake Tahoe.
View our list of all Lake Tahoe beaches to get a quick overview.