Kingsbury South to Big Meadow
South Lake Tahoe, CA 96150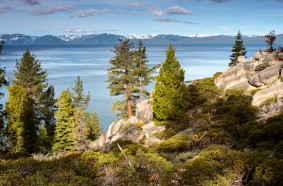 Distance: 23.2 Miles
Highlights: Passes highest peak in Lake Tahoe Basin, Star Lake
Trailheads
Kingsbury Grade South: 1.5 miles south of Hwy 207 on Tramway Drive at base of Stagecoach chairlift. Trailer Parking available. No facilities.
Big Meadow: On Hwy 89 5.5 miles south of US 50/Hwy 89 junction in Meyers. Limited parking. Vault toilets. Trail leaves from road. Alternate Access: Grass Lake trailhead, on Hwy 89 about 1.25 mi. west of Big Meadow. Limited roadside parking.
Trail Info
Signage: The trail is marked at intervals with light blue, triangular TRT logo signs.

Distances:
Kingsbury S to Monument Pass  5.1 mi
Kingsbury S to Star Lake             8.8 mi
Big Meadow to Freel Meadows   5.7 mi
Big Meadow to Armstrong Pass 9.5 mi
Big Meadow to Star Lake           14.4 mi
Best Season: mid-June to mid-October. Freel Peak may not open until mid-July.
Elevation:
Big Meadow: 7300′
Kingsbury South: 7520′
Highest Point: 9700′
East Peak Lake: 8400′
Star Lake: 9100′
Water Sources: Year round water sources at Star Lake, Cold Creek, Willow Creek, Saxon Creek and Grass Lake Creek. All water found on the trail must be treated before drinking.
Multiple Use Trail: The TRT hosts bikers, equestrians and hikers. Please yield accordingly
Camping: Camping is allowed within 300' of the trail and 200' away from a water source.
Fire: USFS permit required for camp stove as fire regulations allow. Fire danger can be extreme and fires, camp stoves and smoking may be prohibited. Check trailhead kiosks or call the USFS (530-543- 2600) for current regulations.

Terrain: Challenging and technical. Many rock benches that require many bikers and equestrians to dismount. Steep drops. Difficult climbs. Tight switchbacks.
Mt. Bikers & Equestrians: Mt. bikers, horseback riding and stock allowed on entire section. Be aware of other trail users.
Leave-No-Trace: The TRTA supports and encourages LNT practices while on the trail.
1. Plan Ahead and Prepare
2. Travel and Camp on Durable Surfaces
3. Dispose of Waste Properly
4. Leave What You Find
5. Minimize Campfire Impacts
6. Respect Wildlife
7. Be Considerate of Other Visitors
Caution – Be prepared for sudden weather changes and be sure to carry a complete TRT or Tahoe Basin map. The map on reverse side is limited.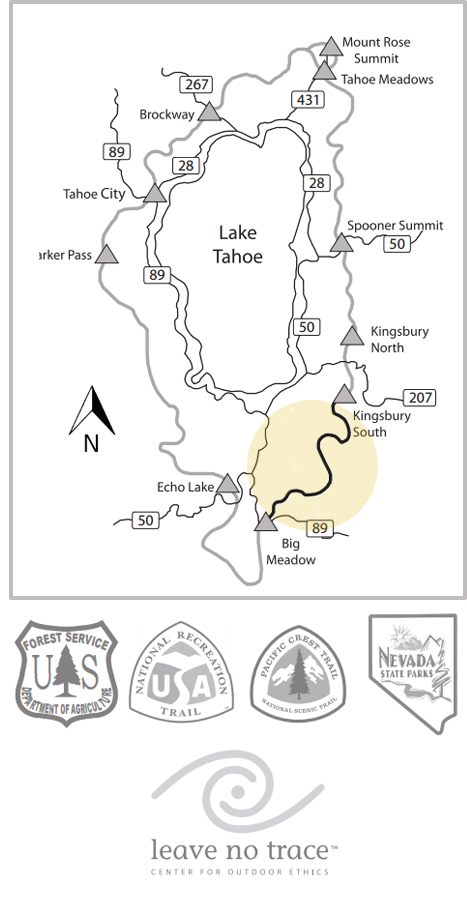 Lake Tahoe Hiking Lake Tahoe hiking – embark on an adventure into unspoiled wilderness! Lake Tahoe hikes are an excellent way to experience the natural beauty of the region. Fill your lungs with pure mountain air, burn some energy on a challenging slope, and then pause to rest at the summit and take in the gorgeous views. Discover many more trails by region: North Lake Tahoe Hiking Trails and  South Lake Tahoe Hiking Trails – your gateway to amazing natural wonders.
Information Provided by
Tahoe Rim Trail Association
PO Box 3267
128 Market Street, Suite 3E
Stateline, NV 89449
(775) 298-0012
info@tahoerimtrail.org
www.tahoerimtrail.org