Jon M Photography
321 Ski Way
Incline Village, CA 89451


(530 )523-3173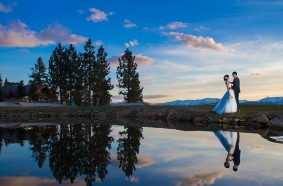 Jon M Photography is a team of Lake Tahoe Wedding Photographers that primarily focus on Lake Tahoe Weddings and Destination Weddings at other great areas.
Our Mission is to give you pictures that you won't find anywhere else. In a time ruled by the influx of "natural light" photography. We are focused on creating amazing pictures through using both natural light and Studio Strobes. In doing both of these types of photography we are offering you even more variety. Personally speaking as Lake Tahoe wedding photographers, our favorite portraits are those dramatic sunset shot with our strobes used to make you stand out from the background. In addition to using our flashes in such a powerful way, we like to lighten it up and use it as a soft fill light for those natural shots. That way you have perfect and subtle light on your face that doesn't distract from the photo as a whole.
When it comes time for your emotional and candid photos we are always on alert. Always looking for those special moments that just happen for a second of time. Not only do we want to capture those expressions and moments as they happen, but as Lake Tahoe Wedding Photographers we understand that the ultimate photo is when we can combine both your emotions and the amazing scenery around you.