Granlibakken Treetop Adventure Park
725 Granlibakken Rd.
Tahoe City, CA 96145


(530) 581-7563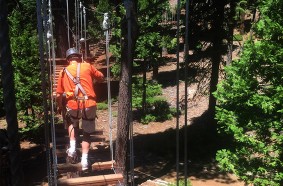 High in the trees of the Granlibakken Resort, near Tahoe's North shore, stands the spectacular "Tahoe Treetop Adventure Park." This park features 65 tree platforms connected by bridges, zip lines, logs, swings, and more. Some obstacles are easy, while others are more difficult to cross, but they're all extremely fun!
Regardless of age or skill level, Treetop Adventure Park has something for everyone. The park has two separate sections – "The Flying Squirrel" consists of 3 different courses for beginners and children ages 5+. Ranging from beginner to advanced, young kids of all ages will have fun playing in the trees. All children and teens are required to have an adult present for the entire 2.5 hour session.
The Monkey Course offers 5 different areas for older, advanced kids and adults. You must be a minimum of 4'8" (56 inches, 142cm) to use the Monkey Course. These courses also range from beginner to advanced, so everyone participating will have a great experience climbing through the trees. Although the advanced rope course can be challenging, it's also intensely fun and very satisfying to complete, especially with the ending obstacle being a 300' zip line ride down to the forest floor!
If you'd rather keep your feet on the ground, it's easy to relax at Treetop Adventure Park. Enjoy the shady, comfortable environment while watching family and friends take on the obstacles above. You will probably leave a bit dusty, so leave your nice clothes and shoes at home. The instructors are all very friendly, focused on guest enjoyment, and they'll help everyone with their harnesses, making sure all participants understood how the safety clips work. The Treetop Adventure Park also offers team building exercises and does a great job of making everyone feel welcome while having fun.
Reservations for the daily sessions are highly recommended and fill up far in advance, so grab your spot days in advance!