Flume Trail Mountain Bike Trail
3709 Hwy 28 (Start at Spooner Lake)
Glenbrook, NV 89413


(775) 749-5349 Shuttle Service
(775) 831-0494 NV State Park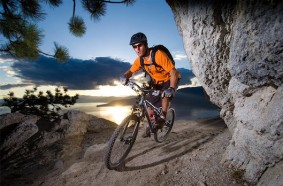 Technical Level: Beginner to Intermediate
Elevation Gain: Around 1000 ft
Length: 14 miles with a shuttle or 30+ miles loop
Location: Lake Tahoe East Shore
Season: Summer
For an easy to moderate mountain biking experience, hit the Flume Trail on the east side of Lake Tahoe. This 14-mile long trail follows a mountain ridge overlooking Spooner Lake, best known for its incredible views and cliff-hugging sections of trail. It is one of the most popular Lake Tahoe mountain biking trails and once you experience it you will understand why. Overall it is an easy ride on mostly dirt roads with some sandy trail conditions and a technical single-track section that covers from Marlette Lake to the Tahoe Rim Trail junction.
Start at the Spooner Lake day-use area (parking fee required), just look for the signs to the trailhead. You can expect some hairpin turns and a steep 4-mile climb that gets a little sandy at the end, which some bikers find to be the most challenging aspect of the trail. It ends with a 0.8-mile downhill trek to Marlette Lake. Marlette Lake is a great place to take a break, swim or catch a bite to eat before continuing on. After arriving at Marlette Lake, you will follow a dirt road around the west side of the lake for about 1.6 miles to the Flume Trailhead. The fun starts here with 4.5 miles of rolling, slightly downhill track. Take in the amazing Flume Trail views from 1600′ above the east shore of Lake Tahoe. Once you reach the "Y" you can go left where the trail decends 1600′ to Highway 28 where you can pay a fee to take the shuttle back, or go right to continue on the Flume Trail, following the loop back to the park which will add another 1.5 to 3 hours on to your trip.
On the Flume Trail, your mountain biking skills don't have to be too technical, but expect to get a great cardio workout. Just make sure you are comfortable using braking techniques and smooth turns in sand, and expect to be on the trail for 1.5 to 3 hours. More seasoned riders can expect to complete the trail in roughly an hour (going one way). The start of the Flume Trail at Spooner Lake is not far from the California-Nevada state line and South Lake Tahoe casinos.