Don, Theresa & Jaime Souers, Pinnacle Real Estate Group
3045 Harrison Ave.
South Lake Tahoe, CA 96150


(530) 577-0389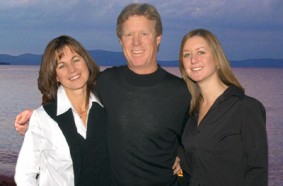 Becoming the Leader in Tahoe Real Estate was Not an Accident
FACING CHALLENGES WITH TEAMWORK
Search: Real Estate in Lake Tahoe
For the Souers family becoming one of the leading real estate agents in Lake Tahoe was no accident. After a transfer landed the Souers family in Lake Tahoe, the pristine waters, superior lifestyle and abundant recreation captivated them. "We were sold on Lake Tahoe from the moment we saw it and I was forever selling its virtues to others" Theresa states. Today, along with her husband Don, and daughter, Jaime, real estate has become a family business, serving all around Lake Tahoe with a primary focus on the South and East shores. Collectively, they have served on the South Tahoe Association of REALTORS® in several capacities: President, Board of Directors, Public Relations Chair, Community Service and the Grievance Committee to name a few. Their success and dedication has been recognized and awarded by their peers throughout the years.
"We enjoy meeting people and we work well as a team." Add their love of Lake Tahoe, and it is easy to understand their amazing success of matching clients with their dream homes. "Exceptional client satisfaction is essential to our success as real estate professionals" believes Theresa. With an uncanny ability to listen to and understand clients' needs, it only comes to reason that they are one of the most respected real estate professional teams in and around Lake Tahoe.
The top priority is ALWAYS the client. "If possible, we take the time to get to know our clients." Understanding the concerns and desires of the buyer and seller are essential to meeting their real estate needs. "By keeping in constant contact, communicating effectively, and making decisions and recommendations based on what is best for the client, everything will fall into place." Creating a two-way relationship insures that everyone is treated fairly and that the end result meets the goals of both the buyer and seller. The Souers are committed to treating every client with the same personal attention they would give to a family member or close friend. "Our focus is on providing the best service possible." Combining strong negotiation skills and marketing expertise get the results their clients expect, while making each experience pleasant and rewarding. "Some of our happiest days," says Don , "are when our client and a house click." Whether it's a vacation home or a place to make a fresh start, it's a great feeling knowing our hard work and perseverance helped fulfill a dream. "Our all-time best days, though, are when our clients become our friends and neighbors."
A successful real estate agent must have the capability to reach buyers and sellers quickly and easily. This is especially true in an area where the majority of homes are owned by out-of-area residents. The internet provides the means to do just that. Their website www.HomeInTahoe.com provides buyers and sellers with detailed information about current listings and in most cases the listings will include a video preview of the property. You can also find information about local neighborhoods and the latest market trends. They stay in touch with clients and potential clients through social media including Facebook, Twitter and LinkedIn.
Determined teamwork is incorporated into every aspect of the business. With a hands-on approach to every real estate transaction, buyers and sellers receive step by step guidance throughout the entire process. Jaime states "As a buyer, we will spend a great deal of time learning about what you want and how we can find the most suitable property." If you are selling your property, "We make every effort to educate ourselves on your personal goals concerning the sale. This includes maintaining regular and ongoing communication during the listing phase and up through and even after the close of escrow. "Whether it's a vacation home or a place to make a fresh start, we know that hard work and perseverance will help our clients fulfill their dreams."
Map / Directions