Desolation Wilderness
Stretches up the west side of Lake Tahoe
CA
(530) 543-2600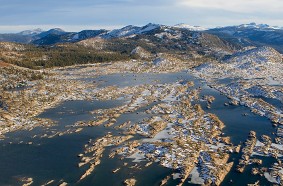 Trail: Multiple Hikes
Difficulty: Multiple Trails: Easy, Moderate and Difficult
Elevation: Varies by route
Mileage (one way): Varies by route
Desolation Wilderness Planning Guide (View PDF Document)
Directions to Trailhead : There are several ways to access Desolation Wilderness. One fairly popular access point is by Echo Lakes. Take Highway 50 to Echo Summit and turn onto Johnson Pass Road. Stay left and the road will lead you to the parking area by Lower Echo Lake.
Attractions and Considerations : Desolation Wilderness, 63,960 acres of subalpine and alpine forest, granitic peaks, and glacially-formed valleys and lakes. It is located west of Lake Tahoe and north of Highway 50 in El Dorado County. Desolation Wilderness is jointly administered by both the Eldorado National Forest and Lake Tahoe Basin Mgnt. Unit.
At Echo Lakes there is a boat taxi operated in the summer by Echo Lakes Resort cuts three miles off your trip. A fee is charged for this service. Contact the Echo Lakes Chalet for more information: (530) 659-7207. If you prefer to hike around Echo Lake then the trail head is marked at the marina area. A wilderness permit is required. Day hikers, pick up your permit at the self serve area at the trailhead. Overnight hikers will need an overnight permit for Desolation Wilderness. This permit must be purchased before you get to the Echo Lakes Trailhead. Visitors can reserve overnight permits online by visiting www.recreation.gov.
West Side Trailheads (Eldorado National Forest) : Loon Lake Trailhead, Buck Island Trailhead, Van Vleck Trailhead, Rockbound Trailhead, Twin Lakes Trailhead. Lyons Trailhead, Pyramid Creek (Twin Bridges) Trailhead, Ralston Trailhead, Echo Trailhead
East Side Trailheads (Lake Tahoe Basin Management Unit) : Echo Lakes Trailhead, Glen Alpine Trailhead, Mount Tallac Trailhead, Bayview Trailhead, Eagle Falls Trailhead, Meeks Bay Trailhead
Map / Directions