Concerts at Commons Beach, Tahoe City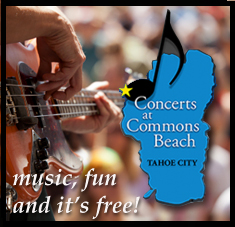 Sink into your low-back chair and tap your feet to the music! The Concerts at Commons Beach are the largest free, live music events in North Lake Tahoe. The best part is that it happens right on the shores of Lake Tahoe and features local, regional, and national performers whose sole purpose is to entertain you with their diverse musical talents.
This 12-week concert series is scheduled every Sunday afternoon from June 24 to September 9, 2013. Bring a picnic to share with family and friends, let the kiddos run free in the fully equipped playground, and enjoy the relaxed atmosphere of Tahoe City's Commons Beach. Don't forget to pack your blankets, low-back lawn chairs, hats and sunscreen. If you don't feel like bringing your own food you can purchase delicious sushi, barbecue, salads, ice cream and more from local food and drink vendors. Check out our Lake Tahoe events page for more summertime happenings.
Concerts at Commons Beach 2013
Musical Line Up
June 23, 2013 • 3pm -7PM
Trey Stone
June 30, 2013 • 4pm – 7pm
Joy & Madness (formerly The Nibblers)
July 7, 2013 • 4pm – 7pm
Leche De Tigre (from Hawaii)
July 14, 2013 • 4pm – 7pm
The California Honeydrops
July 21, 2013 • 4pm – 7pm
​Monophonics
July 28, 2013 • 4pm – 7pm
Vinyl
August 4, 2013 • 4pm – 7pm
​Eddie Roberts West Coast Sound
August 11, 2013 • 4pm – 7pm
Mumbo Gumbo
August 18, 2013 • 4pm – 7pm
Joe Craven Trio w/ special guest Hattie Craven
August 25, 2013 • 4pm – 7pm
SambaDa´
September 1, 2013 • 3pm – 7pm
​Locals Last Waltz, featuring King High Tide, Downbeat, Littlepine and Beergardeners
September 8, 2013 • 3pm – 7pm
NT Jazz Band and Beer Gardeners