Clark Hiking Trail
South End of Fallen Leaf Lake
South Lake Tahoe, CA 96150


(530) 543-2600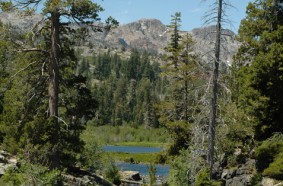 Difficulty: More to Most Difficult
Elevation: 6420'/7470′
Mileage (one way): 0.5 miles to Angora Lookout
Directions to Trailhead : Take Highway 89 north approximately 3 miles from South Lake Tahoe to Fallen Leaf Lake Road. Watch for bicyclists and other cars on this narrow, one-lane road. Continue until you see the Glen Alpine trailhead sign and turn left. Trailhead parking is across from Lily Lake.

Trail : From the parking area, walk back down the road to the junction of Fallen Leaf Lake Road. Look for the small church to your right. A little post located behind the church marks the hard-to-find trailhead. Clark Trail is a strenuous half mile trail that will take you from the south end of Fallen Leaf Lake up a the steep trail to Angora Lookout point. You can continue on to Angora Lakes where you are rewarded with a beautiful beach, swimming and small store offering lemonade and ice cream – yum. Angora Lookout offers wonderful views of Lake Tahoe your reward for such a demanding hike.

Attractions and Considerations : For the more adventurous, this strenuous hike can provide some solitude. Traversing through loose shale up a steep grade, the trail ends at Angora Lakes.

Useful Map Information : USDA Forest Service map: Lake Tahoe Basin Management Unit: R.17 E. T. 12 N.
Map / Directions