Chimney Beach
Incline Village, NV 89451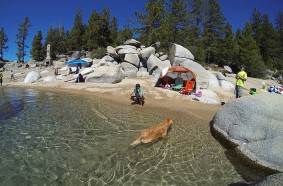 Chimney Beach is one of the best ways to get away from the crowds, as long as you're willing to make the moderate half mile hike (one way). Enjoy sweeping views of Lake Tahoe, boulder outcroppings, sandy beach, crystal clear water and the unique chimney marker that gives the beach it's name. There are several sandy beach pockets among boulders as you walk the trail heading south of the Chimney Beach if you want a smaller spot all to yourself. There is a chance you can encounter nude sunbathers so we recommend families staying near the immediate area of Chimney Beach. Picnic tables and restrooms are provided nearby and feel free to bring your dog since Chimney Beach is a dog friendly Lake Tahoe beach. Get some interesting shots of the chimney which is the only thing remaining of an old lakefront cabin.
The beach is located 2.5 miles south of Sand Harbor right off of Highway 28 (about six miles south of Incline Village, Nevada). There are two parking lots – one Forest Service parking lot is .25 miles south of Thunderbird Lodge, on the west side of Highway 28. The second is a more obvious parking lot which is an additional .25 miles south. Parking is free at both parking locations, but overnight camping is not allowed.
There are signs marking the trail near the parking lot restrooms leading you down to the lake. The trail goes straight down from the parking lot and curves back when you get closer to the Lake Tahoe shoreline. You will spot the chimney as you get closer to the beachfront, it's impossible to miss and makes finding this beautiful Lake Tahoe beach a breeze.
Chimney Beach is one of many wonderful North Lake Tahoe beaches. If you are staying in the South Lake Tahoe area then view are guide to South Lake Tahoe beaches too! View our Lake Tahoe beaches map for beach options nearest you.
Map / Directions