Cascade Falls Hiking Trail
Lake Tahoe South West Shoreline
CA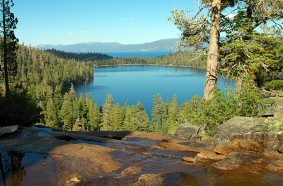 Difficulty: Moderate
Elevation: 6800′ / 6910′
Mileage (one way): 1 mile
Directions to Trailhead : Take Highway 89 north from South Lake Tahoe approximately 8 miles to the Bayview Campground across from Inspiration Point.You will find parking is located at the far end of the campground.
Trail : Look for the trailhead sign at the far end of the parking area. There is some limited parking so in the summer months you might want to get an early start to guarantee a spot. The hike is moderate and could be considered easy for some depending on your fitness and level of ability. At a good pace you can make it to the falls in roughly 40 minutes. Although there is not a lot of elevation change there are challenging spots along the trail with large rocks/small boulders to navigate.
This is a good hike if you want to get out and see some beautiful scenery, but don't want a full day hike. It's a great place to pack a lunch into so you can relax, take in the views and enjoy your break near the falls. The surrounding large rock outcroppings are impressive as trees seem to grow out of small cracks. Kids would enjoy this "not too long of a hike" with a wonderful creek and rushing falls at the end. The creek is really running hard in the late spring, early summer and slows way down in the fall.
Attractions and Considerations : Spectacular views of the 200 foot high falls and Cascade Lake.
Useful Map Information :USDA Forest Service map: Lake Tahoe Basin Mgnt. Unit: R.17 E. T. 13 N.
Map / Directions