Carnelian West Beach
5074 North Lake Boulevard
Carnelian Bay, CA
(530) 542-5580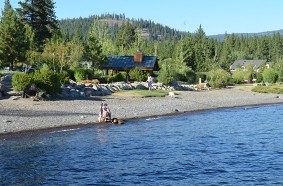 Carnelian West Beach and Public Lake Access shares the same parking area as North Lake Tahoe's famous Gar Woods Restaurant. Gar Woods maintains Carnelian West Beach on behalf of the California Tahoe Conservancy. This beach stretches 530 feet where you can enjoy benches, picnic tables, BBQ's, restrooms and lovely lakefront promenade. Carnelian West Beach is always open to the public year-round and is considered a pet friendly beach with some limited restrictions to follow.
Carnelian West Beach offers some grassy areas that can be reserved for special events through Gar Woods Restaurant. You will find the shoreline to be pebbly, but still a lovely setting. Spend the day on the beach then take in lunch or dinner on the deck of Gar Woods Restaurant. Of course the Lake Tahoe views are incredible and you will find this public beach to be very clean and easy to access.
Carnelian West Beach is one of many wonderful North Lake Tahoe beaches so come explore the shores of Lake Tahoe up close. View our Lake Tahoe beaches map for other great beach options near you.
Map / Directions