Baldwin Beach and Ski Beach
Take Baldwin Beach Rd.
South Lake Tahoe, CA 96150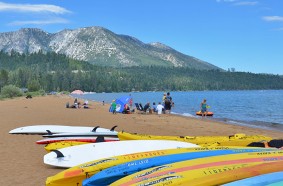 Looking for an open sandy beach with amazing views? Baldwin Beach and Ski Beach can be your own little piece of paradise. These two South Lake Tahoe beaches attract locals and families alike, who flock here during the summer months. The two separate parking areas fill up fast, so be sure to arrive early (11am or so) to get a parking spot. Windsurfing, kayak, canoe and flat board rentals are available and give you one of the closets rental spots near Emerald Bay. You will want to bring something for shade, and can expect a parking fee, flush bathrooms, a few picnic tables and a level walk from the parking lot to the beach. Leashed dogs are allowed on Ski Beach only. View the Lake Tahoe beaches map for other local beaches in the area.
Visitors can walk from Baldwin Beach over to Ski Beach where boaters like to anchor their boats and relax on the beach. These beaches, as well as several other nearby beaches, are accessible by a nice paved trail that winds through the national forest between the shoreline and Highway 89 (Emerald Bay Road). You can walk, run, or rent a bike to follow the tree-lined trail to your favorite beach and take a dip and enjoy a nice picnic.
Location: Baldwin Beach and Ski Beach are located approximately 4 miles north of the "Y" (the intersection of Highway 50 and Highway 89) in South Lake Tahoe. Take Baldwin Beach Rd. which will take you to the parking lot location – just steps from the sandy beach.
Map / Directions