American Century Celebrity Golf Championship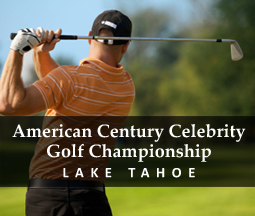 Golf enthusiast won't want to miss the number-one celebrity sports event in the USA! That's right; the American Century Celebrity Golf Championship 2013 is almost upon us. Located in Tahoe South at the scenic Edgewood Tahoe Golf Course, this popular event features 80 of the greatest celebrities in sports and entertainment.
Celebrities scheduled to appear in the 2013 tournament include Michael Jordan, Charles Barkley, Aaron Rodgers, Ray Romano, John Elway, Jerry Rice and Jack Wagner. Participants will compete in a 54-hole Modified Stableford competition to win the American Century Championship Cup and a share in a record purse of $600,000.
Come as a spectator or take part in the action! There are only a limited number of amateur spaces available, so book yours today. Taking place July 16 to 21, 2013, this year marks the 24th annual American Century Championship. It is a made-for-television event that is owned and broadcasted by NBC Sports. American Century Investments and NBC Sports have raised more than $4 million dollars for local and national charities through this tournament.
For more information about the tournament, visit the American Century Celebrity Golf Championship 2013 website.
Planning your own golf vacation? There are many scenic Lake Tahoe golf courses just waiting to be played. If you are interested in attending other fun great events visit our Lake Tahoe events calendar.